How to make a simple homemade buttermilk substitute with 2 easy ingredients!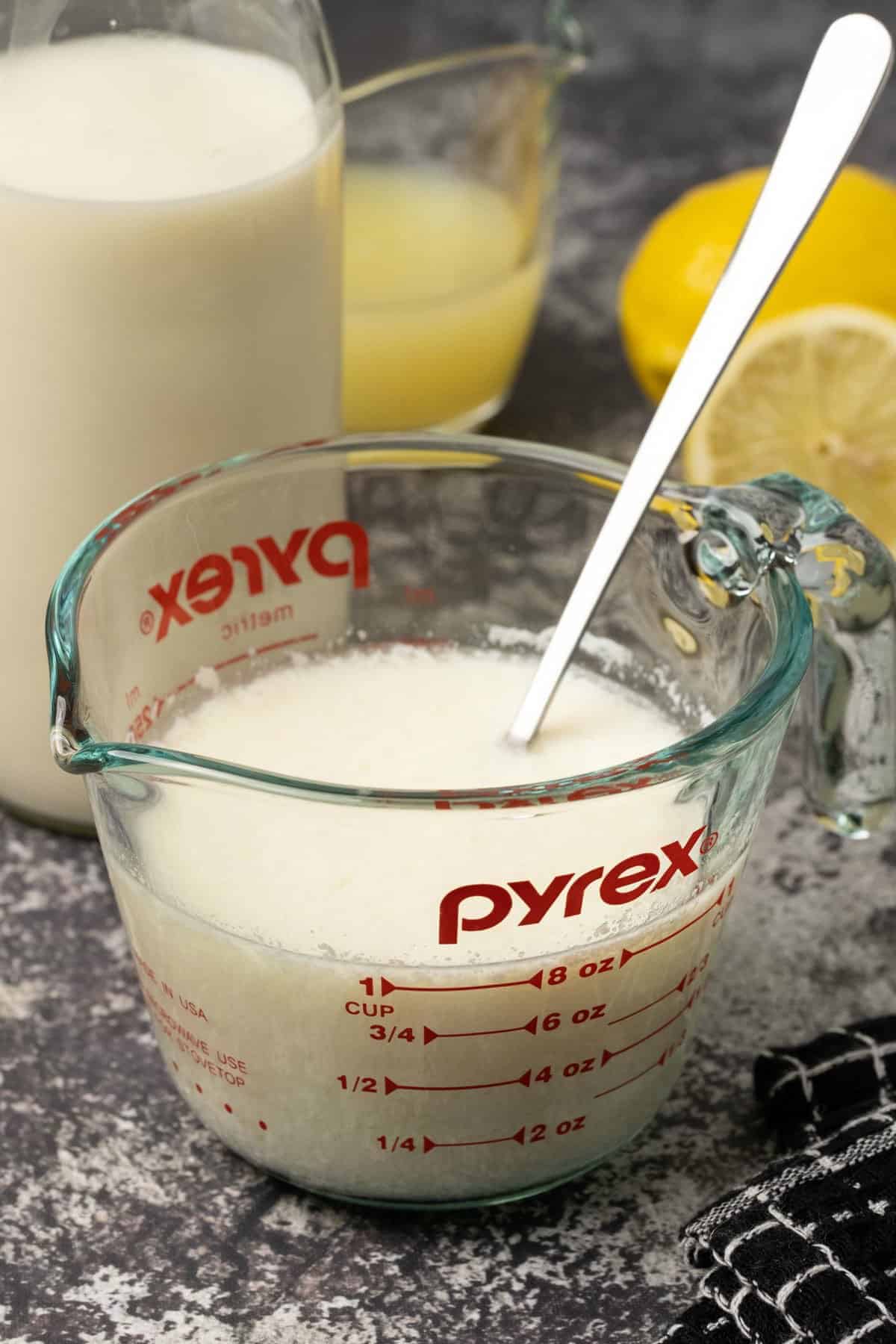 So you're looking at a recipe and you're super keen to try it, until you see that dreaded word: buttermilk. I mean who has that just hanging around?
You don't want to go all the way to the store to get some, so you just start looking for another recipe that doesn't use it.
Super easy solution: make homemade buttermilk. All you need is lemon juice (or vinegar) and milk and you can make a homemade version that is every bit as good in your baked goods as the real deal.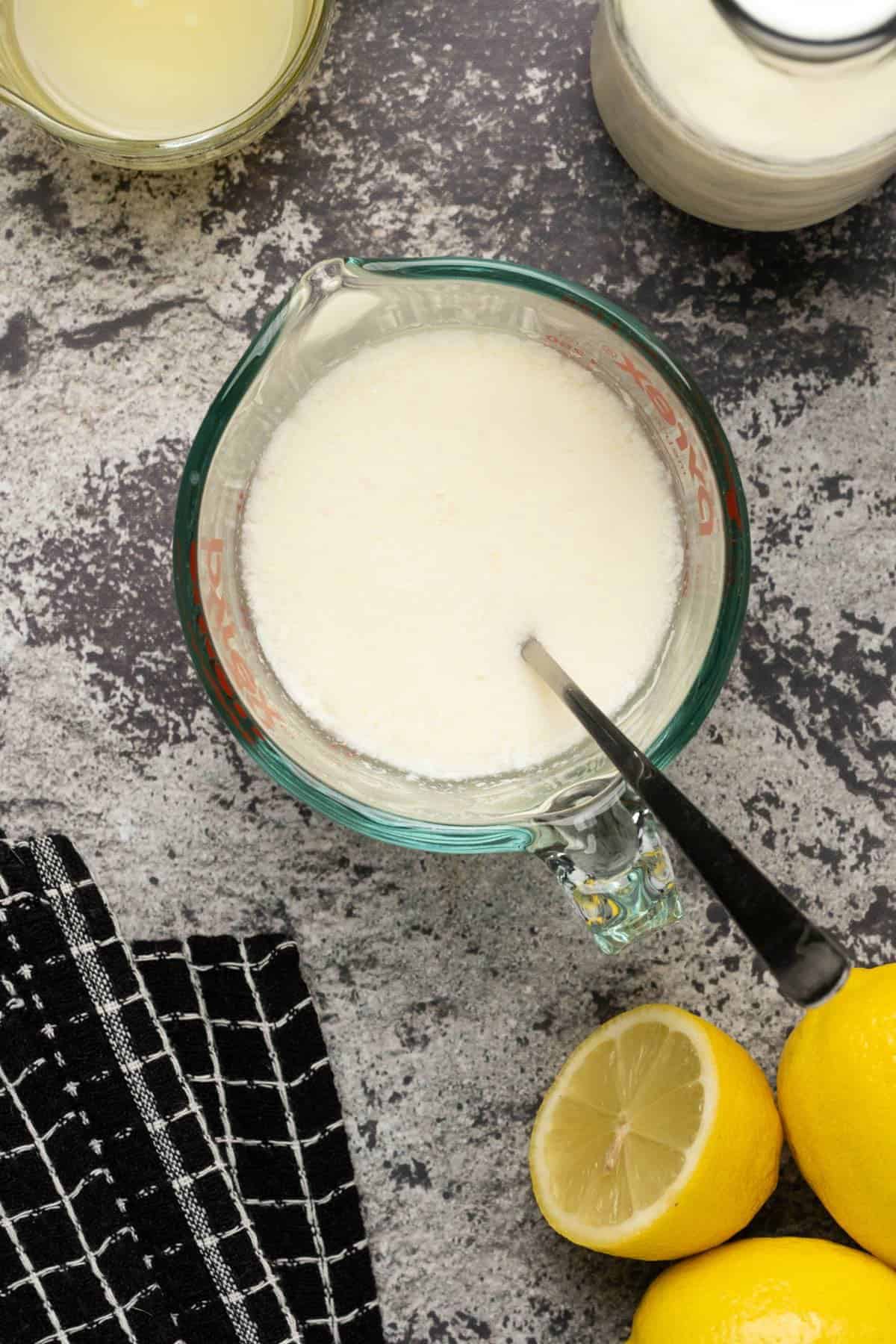 How To Make Homemade Buttermilk
Add a tablespoon of lemon juice to a measuring jug. Add milk up to the 1 cup (240ml) line and stir. Let it sit for a few minutes (and up to 10 minutes) until it curdles into buttermilk. It's as easy as that!
How To Make Buttermilk With Vinegar
If you don't have lemon juice you can use distilled white vinegar in exactly the same quantity and get the exact same results. Too easy!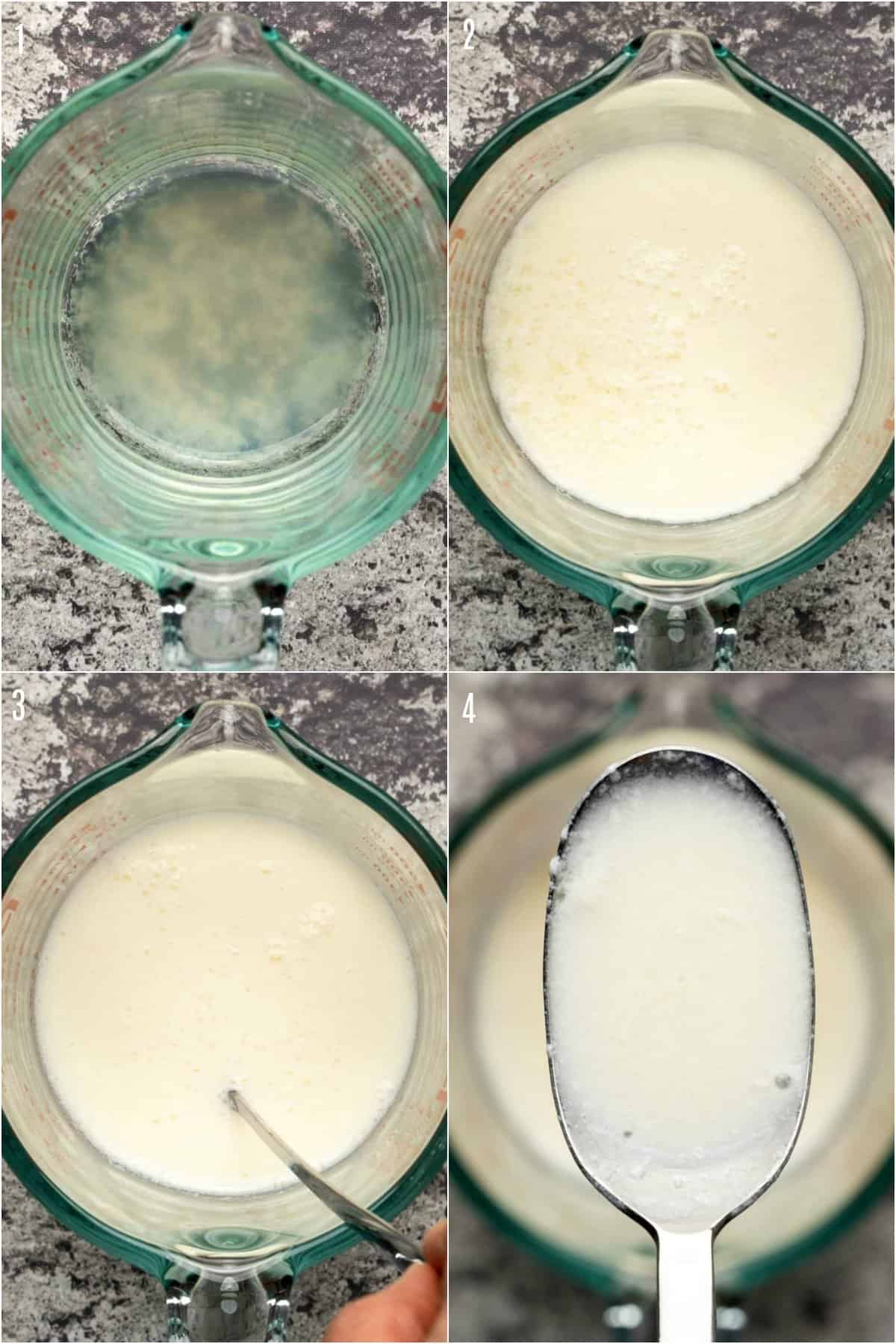 Can I just use Regular Milk Instead of Buttermilk in a Recipe?
No, you can't replace buttermilk in a recipe with regular milk because buttermilk is acidic so it usually interacts with the leavening agent in the recipe (like baking soda).
If you use regular milk instead of buttermilk your baked goods may not rise as well, or they may not be as moist or tender. So it's always a good idea to stick with using buttermilk and the homemade version is totally perfect to use.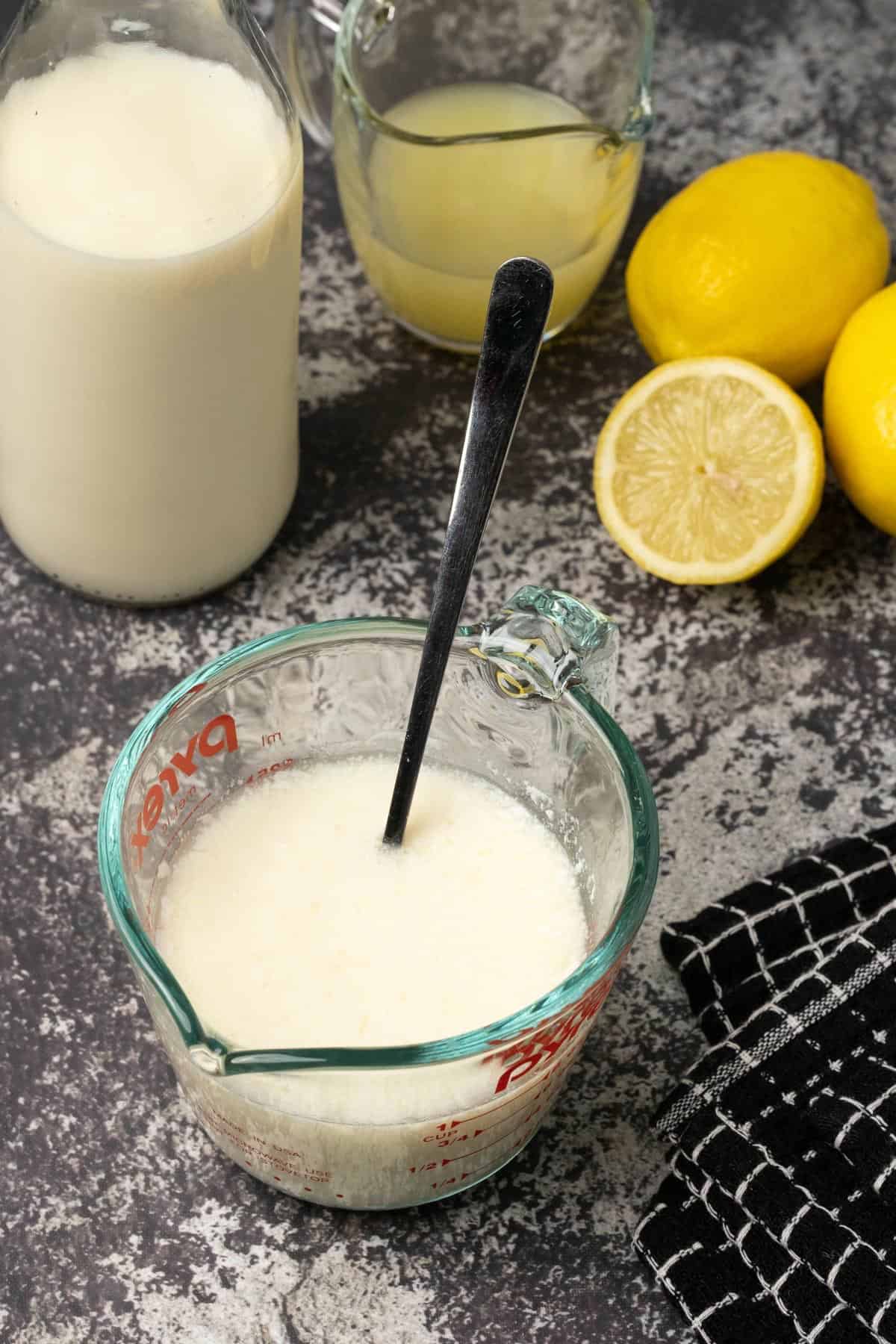 How To Store Homemade Buttermilk
Store it in the fridge and it will last for up to a week. However, it's so easy to make that you don't need to make it in advance and can just make up a batch as you need it.
Can You Freeze Buttermilk Substitute?
Yes you can! The easiest way to do this is to put it into ice cube trays and freeze it like that. Then when you want to use it for baking, you can let it defrost in the fridge. Again though, it's so easy to make you might as well make up a fresh batch. But if you do happen to have leftovers, then go ahead and freeze it!
Can You Make A Dairy-Free Version of Buttermilk Substitute?
Yes! This is the easiest thing ever to do because soy milk works amazingly well. Use soy milk instead of dairy milk and it curdles beautifully into buttermilk and works amazingly in your baked goods. There will seriously be no difference at all in the final result!
Almond milk also works but less well. It is thinner than soy milk so the result isn't as thick and rich as what you'll get with soy milk. But if you're allergic to soy, then almond milk is an option too.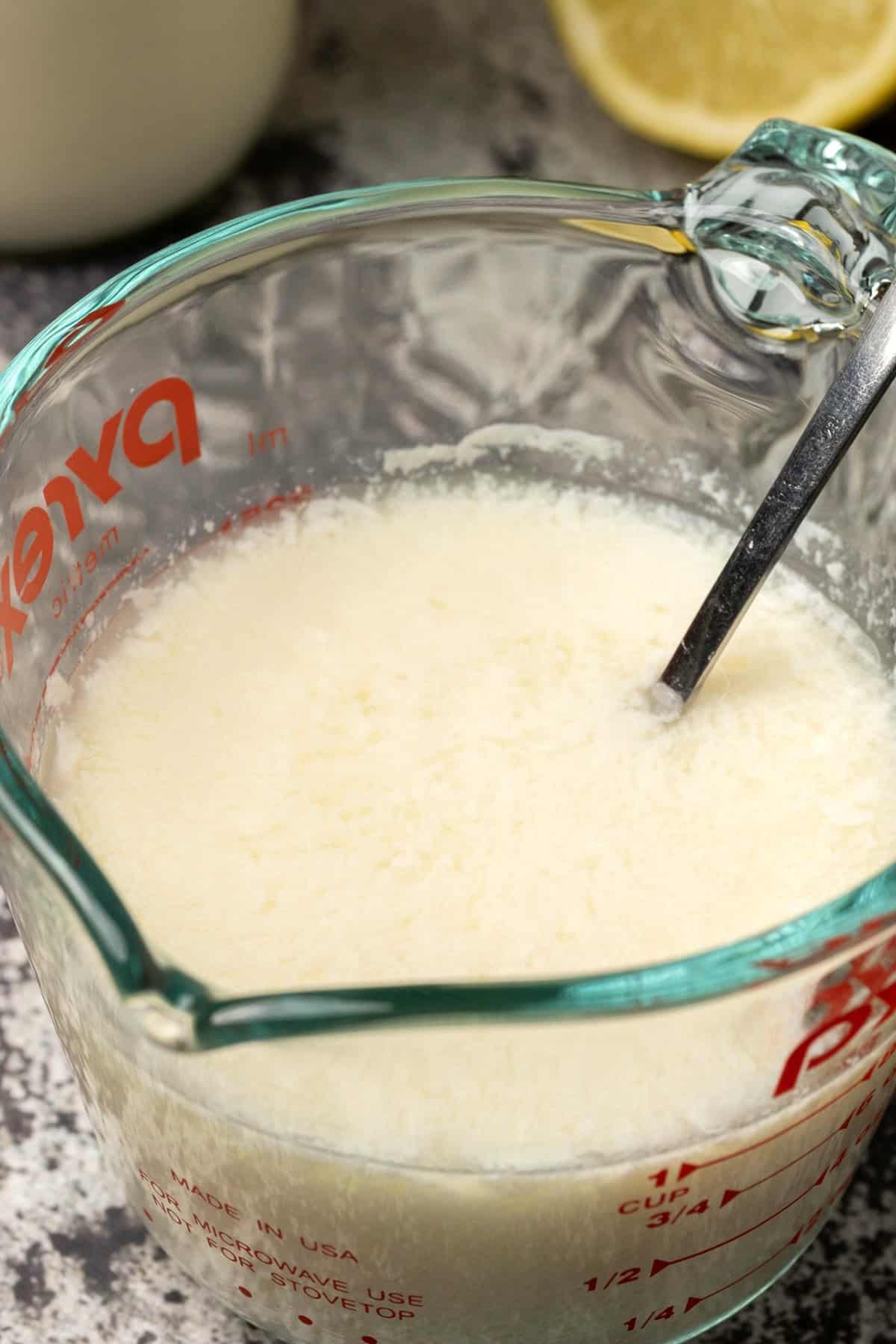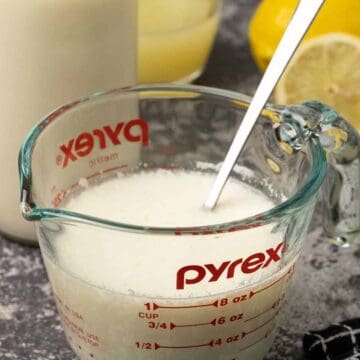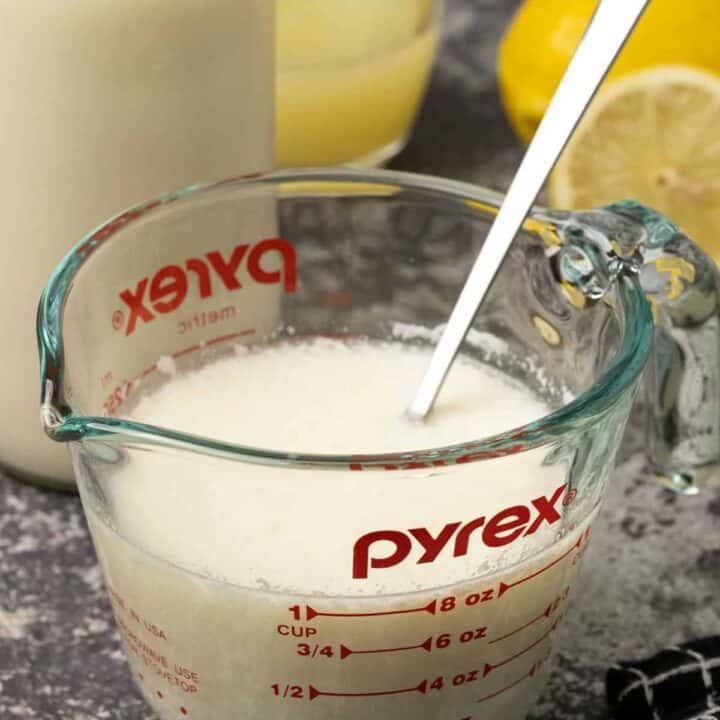 Homemade Buttermilk
Simple step by step tutorial for how to make a simple homemade buttermilk substitute with 2 easy ingredients!
Print
Pin
Rate
Ingredients
1

Tbsp

Lemon Juice

1

Scant Cup

Milk

room temperature
Instructions
Add the lemon juice to a measuring jug and then add milk up to the 1 cup line. Let it sit for 10 minutes and it will curdle into buttermilk.
Notes
A 'scant' cup of milk just means it's a tablespoon or so short of a full cup. Since we add the lemon juice first, it's easy to measure and you just add milk up to the 1 cup line. 
Room temperature milk is going to curdle best. If your milk is too cold it might not curdle properly. If this happens then don't worry, it can be fixed. Just let it sit on the counter until room temperature and then add more lemon juice and let it curdle. 
Distilled white vinegar also works as an alternative to lemon juice. 
It's very easy to make a dairy free version of homemade buttermilk. Just use soy milk in the exact same quantity. It curdles exactly like dairy milk and is identical in baked goods. 
Nutrition
Serving:
1
cup
|
Calories:
152
kcal
|
Carbohydrates:
13
g
|
Protein:
8
g
|
Fat:
8
g
|
Saturated Fat:
5
g
|
Cholesterol:
24
mg
|
Sodium:
105
mg
|
Potassium:
322
mg
|
Sugar:
13
g
|
Vitamin A:
395
IU
|
Vitamin C:
6
mg
|
Calcium:
276
mg